Sewer Lines Cleared
Tree Roots Removed

Jetting, Video Inspections

Frozen Pipes
We carry a full van of sewer machines to fix your sewer problems Right Away!
Mt. Washington Sewer & Drain Cleaning provides video inspections/drain cleaning and is your #1 choice for sewer and drain cleaning companies.
Service for all NorthConway, Berlin New Hampshire and Littleton, NH  areas 
Commercial Or Residential & Fully Insured
North Conway, New Hampshire 03860 Berlin, New Hampshire 03570 drain cleaning service
Ask The Drain Expert
Your local sewer and drain cleaning companies choice. mt.washington sewer & drain cleaning video inspections/drain cleaning. Mt.Washington Sewer & Drain Cleaning.  Many local plumbers refer us for those tuff jobs.
Full drain cleaning services we also preform video inspections. Fully Insured Van also is clearly marked for easy identification when we arrive to your home or business.

MT. Washington Sewer & Drain Cleaning
Clogged Drain Or Sewer? Call Us
Drain Cleaning for
Commercial & Residential
Kitchen Sinks, Tubs, Toilet clogs
Floor Drains, Area Drains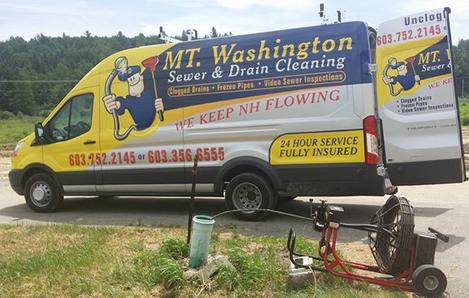 What Causes Drains To Clog? And Why So Often?
Many factors come to play when causing your drain problems. What is being flushed? Age of pipes? Who installed your pipes? Tree roots are a main cause. But today with many water saver toilets being used not enough flow to make the solids flush to the city sewer system.
 Your Sewer And Drain Cleaning Company Call Today
Your Local Sewer & Drain Cleaning Expert
Video Inspections
Having problems with your sewer system? We can video inspect sewers up 200 feet with clear color images. Buying a home and not sure of the sewers heath give us a call.
Serving the Berlin, NH 03570 Gorham, NH 03581 Milan, NH 03588 Jefferson, NH 03583 Randolph, NH 03593 Lancaster, NH 03584 Jackson NH 03846, Bartlett, NH 03812 Glen, NH 03838 Interval, 03845 Conway, North Conway NH 03860, Albany NH 03818 Whitefield, NH 03598 Littleton, NH 03561 Dummer, NH 03588 New Hampshire Areas, Including Coos County and the Mt. Washington Valley. MT. Washington Sewer & Drain Cleaning video inspections/drain cleaning. Sewer And Drain Cleaning Companies
Drain/clog/sewer/pipe/prices/clogged/plumbers/frozen/tree roots/rooter/service/snake/smell
.
Clean Drains Before the Holidays
Drain cleaning should be part of regular home maintenance and it's best to get it done before Thanksgiving, Christmas or New Year's Eve. Storm drains may contain dirt, leaves and roots. Tree roots love to grow inside the main sewer line. Kitchen drains can have grease and food build-up. Many holiday parties have been ruined by these lines backing up at the worst time,
Expert drain cleaning and some precautions will help you avoid big problems during holiday parties. Ask your plumber to check all your drains and snake those that need cleaning.
Acworth | Albany | Alexandria | Allenstown | Alstead | Alton | Amherst | Andover | Antrim | Ashland | Atkinson | AuburnBarnstead | Barrington | Bartlett | Bath | Bedford | Belmont | Bennington | Benton | Berlin | Bethlehem | Boscawen | Bow | Bradford | Brentwood | Bridgewater | Bristol | Brookfield | BrooklineCampton | Canaan | Candia | Canterbury | Carroll | Center Harbor | Charlestown | Chatham | Chester | Chesterfield | Chichester | Claremont | Clarksville | Colebrook | Columbia | Concord | Conway | Cornish | CroydonDalton | Danbury | Danville | Deerfield | Deering | Derry | Dixville | Dorchester | Dover | Dublin | Dummer | Dunbarton | Durham East Kingston | Easton | Eaton | Effingham | Ellsworth | Enfield | Epping | Epsom | Errol | Exeter Farmington | Fitzwilliam | Francestown | Franconia | Franklin | Freedom | Fremont Gilford | Gilmanton | Gilsum | Goffstown | Gorham | Goshen | Grafton | Grantham | Greenfield | Greenland | Greenville | Groton
Hampstead | Hampton | Hampton Falls | Hancock | Hanover | Harrisville | Hart's Location | Haverhill | Hebron | Henniker | Hill | Hillsborough | Hinsdale | Holderness | Hollis | Hooksett | Hopkinton | Hudson Jackson | Jaffrey | Jefferson Keene | Kensington | Kingston Laconia | Lancaster | Landaff | Langdon | Lebanon | Lee | Lempster | Lincoln | Lisbon | Litchfield | Littleton | Londonderry | Loudon | Lyman | Lyme | Lyndeborough
Madbury | Madison | Manchester | Marlborough | Marlow | Mason | Meredith | Merrimack | Middleton | Milan | Milford | Milton | Monroe | Mont Vernon | Moultonborough Nashua | Nelson | New Boston | Newbury | New Castle | New Durham | Newfields | New Hampton | Newington | New Ipswich | New London | Newmarket | Newport | Newton | Northfield | North Hampton | Northumberland | Northwood | Nottingham Orange | Orford | Ossipee Pelham | Pembroke | Peterborough | Piermont | Pittsburg | Pittsfield | Plainfield | Plaistow | Plymouth | Portsmouth Randolph | Raymond | Richmond | Rindge | Rochester | Rollinsford | Roxbury | Rumney | Rye Salem | Salisbury | Sanbornton | Sandown | Sandwich | Seabrook | Sharon | Shelburne | Somersworth | South Hampton | Springfield | Stark | Stewartstown | Stoddard | Strafford | Stratford | Stratham | Sugar Hill | Sullivan | Sunapee | Surry | Sutton | Swanzey Tamworth | Temple | Thornton | Tilton | Troy | Tuftonboro Wakefield | Walpole | Warner | Warren | Washington | Waterville Valley | Weare | Webster | Wentworth | Westmoreland | Whitefield | Wilmot | Wilton | Winchester | Windham | Windsor | Wolfeboro | Woodstock Atkinson and Gilmanton Academy Grant | Beanís Grant | Beanís Purchase | Cambridge | Chandlerís Purchase | Crawfordís Purchase | Cuttís Grant | Dixís Grant | Ervingís Location | Greenís Grant | Hadleyís Purchase | Haleís Location | Kilkenny | Livermore | Low and Burbankís Grant | Martinís Location | Millsfield | Odell | Pinkhamís Grant | Sargentís Purchase | Second College Grant | Success | Thompson and Meserveís Purchase | Wentworthís Location
Coos/ Grafton/ Carroll/ Sullivan/ Merrimack/ Belknap/ Strafford/ Rockingham/ Cheshire/ Hillsborough/
clog/ clogged / drain / draining / slow drain / blockage / stoppage / plunging / snaking / rooter / rooting / backing up / help /
over flow / over flowing /roots in sewer / how to remove roots / not draining /
Tags: 24 hour, blockage, clogged, Clogged sewer, commercial, drain, Drain Cleaning, electric rooter, emergency service, frozen pipes, kitchen drains, MT. Washington Sewer & Drain Cleaning, New Hampshire, nh, pipe, Plumbing, residential, rooter, rooter service, sewer, sewer inspection, sewer jetting, shower, toilet, tree roots, tub